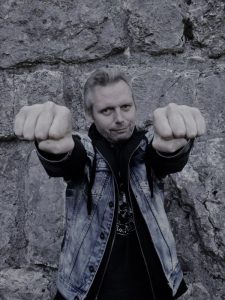 Sime Freiburghaus
Email : sime(at)klawmetal.com
Job in KLAW: Guitarist
Musical experience: First Band was ZELLZIUS (Hardpunkthrashcore) , various other Bands beside ZELLZIUS, as there were SUSPIRIA (Thrash Metal), ABGRUND (Asi Punk), Rats (Asi Rock'n'Roll). After the end of ZELLZIUS I joined CONTORSION (Thrash Metal).
Influences, favorite bands: Sepultura, Motörhead, Exodus, Turbonegro, Nitrogods, Murderdolls.
This inspires me: Ups and downs in life.
I like: Playing guitar, modifying guitars, meat , biking, skiing, tattoos.
I do not like: Getting up early, working, vegetarian food, no more beer in the fridge, running out of tabacco, any kind of "Mundart Rock", Lady Gaga.
What I do in life (besides KLAW): Work, cycling, drinking beer, concerts, chilling.